FRESH GRADUATE PROGRAM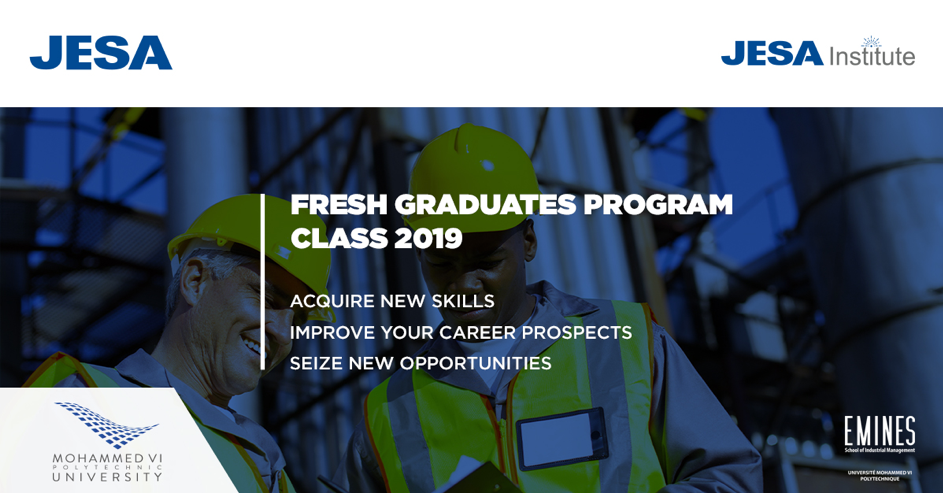 BY WHO?
JESA is the largest engineering group in Morocco and the region, specialized in engineering, urban planning, project management and consulting. JESA is a subsidiary of OCP Group, the world leader in phosphates and derivatives.
Based in Casablanca with offices in Rabat, Côte-d'Ivoire (Abidjan), Ethiopia (Addis Ababa), USA (Lakeland), and Benin (Cotonou), the group provides a large spectrum of services in a variety of fields, including phosphates, mining and minerals, chemicals, transportation infrastructure, sanitation, water and environment, energy, and building. Today, JESA employs nearly 1,700 collaborators.
JESA is a hub of excellence for training, coaching and skills development supported by JESA Institute.
JESA Institute was created to contribute to knowledge sharing and skills improvement in the industrial, energy, building and infrastructure sectors in Africa.
EMINES/ School of Industrial Management is firmly oriented towards the business world. It strives to train real industrial managers able to respond to the modern complex world. The purpose of the School of Industrial Management is:
To train these profiles of managers, i.e. graduates who have basic scientific and technical knowledge and know-how, and who are prepared to become entrepreneurs working for national and African companies.
To develop research programs in the industrial management area, in coordination with the business needs in the country and the African continent.
WHAT IS IT ABOUT ?
An unprecedented program for young engineers freshly graduated
An integration and success accelerator
The Fresh Graduates Program is a three-week course in key engineering disciplines aiming to support the smooth transition of the fresh graduate engineers into the professional world.
OBJECTIVES :
The main objective of this program is to develop a solid base of technical knowledge among the fresh graduate Engineers of the current year, in order to prepare them for a challenging position and to shape the experts and leaders of tomorrow in the engineering field.
It is also about identifying the best potential recruits for JESA and its ecosystem.
The Fresh Graduates Program is very intensive. It allows candidates to meet JESA national and international experts, strengthen their technical skills and gain a wide knowledge of engineering trades. This program also enables them to develop their knowledge on Industrial, Building, Infrastructure project management as well as in Asset Management while enhancing their ability to be a good team player.
The Fresh Graduates Program is also a unique opportunity to create connections, benefit from a broad network, and seize this opportunity to make the first step towards a successful professional career.
PROGRAM:
The Fresh Graduates training program offers the opportunity to develop technical and professional skills crucial for a successful entry into the professional world thanks to high-level experts and sound advices.
This technical training is split into 4 tracks:
Process /Safety in Design/ Environment
Civil/ Infrastructure
Electrical, Instrumentation & VDS
Mechanical/ Piping
An assessment is carried out at the end of the program to assess the performance and knowledge and to award a JESA/EMINES/UM6P certificate to candidates who have completed the program and passed the final test.
The courses are developed and designed using the most effective approach to help participants learn and to be able to apply the newly acquired knowledge efficiently. They are facilitated in French and/or English depending on the experts.
In addition to the courses, participants will be introduced to the fundamentals of projects management and key functions such as health/ safety, estimation, scheduling, monitoring, procurement, construction, asset management, etc.
FEES :
Program participation fees: 1,850 MAD
PROGRAM FRAMEWORK:
Conditions: Residential along 3 weeks.
Hours: 6 to 8 hours training per day.
Expert professors: JESA senior engineers from various international offices including the United States, Britain and India.
Tracks:
Process/Safety in Design/Environment,
Civil/Infrastructure,
Electrical/Instrumentation/VDS
Mechanical/Piping
Teaching Languages: English & French
Location: Mohamed VI Polytechnic University of Benguerir / EMINES
Accommodation and catering: Covered by UM6P.
Others: Access to library
Access to sports activities within the EMINES campus throughout the program
DATES AND ADMISSION:
The program for 2019 session will be held from 27 August au 13 September 2019
See the admission requirements.